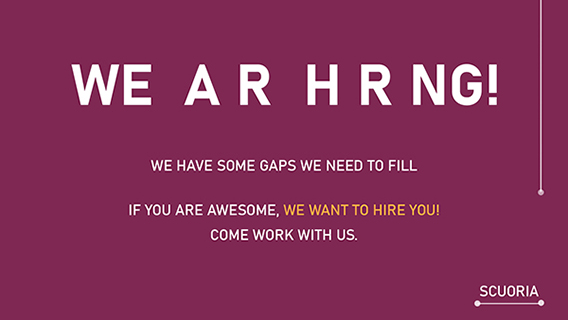 Career
Welcome to Scuoria's Career Centre. We hope that you have found an opportunity that suits your needs and fits your skillset. It is our pleasure to be adding to our ever-growing team with another unique individual bringing with them their expertise.

Being a hybrid multi-software managed service provider, we hope to deliver complex and high-performance software solutions through an integrated robust architecture. Our goal is to allow us to enable total solutions for our customers.

Scuoria is proud to provide unique career opportunities that contribute to continuous learning and opportunity for growth, within an environment that is committed to inclusion and respects diversity.
We're always looking for brilliant minds who know their stuff, and love what they do.
We are always looking for brilliant and highly motivated individuals to join our team. With Hybrid and WFH options, we embrace diversity and strive for an inclusive and collaborative work environment where employees can grow and develop their skills.
Sky is the limit. Be yourself. We'll pay you for it!
We invite you to take some time to explore our current job openings. If you don't see what you're looking for, submit your résumé anyway. We never stop looking for brilliant, motivated people.
Current Openings
Development
Web
Windows & Linux
Android
Games
Automation
Testing
Database Testing
Programm Function Testing
Validations
Bug Fixes